DigitalOcean offers cheap Linux virtual sever hosting starting from very little price such as $5/month (or $0.007/hr with hourly billing). According to them,  DigitalOcean Linux cloud VPS hosting comes with 99.9% up time SLA guarantee, simple automated back ups and with few other features. So you can get all these features as low as for $5 per month with DigitalOcean unmanaged VPS Hosting and can deploy your cloud Linux virtual server in 55 seconds.
How to signup to DigitalOcean
Besides providing great service at low cost, DigitalOcean is known for being very fast with its signup process, in fact – it's going to take you roughly ~5 minutes (in total) to signup, add funds to your account, create a droplet and launch a site. If you're inexperienced, you're looking at ~7 minutes (in total) tops. Quite amazing, isn't it?
Opening a New Account
It's incredibly easy to open up an account with DigitalOcean, you can begin by heading over to the DO homepage, and selecting the signup button in top right corner. There you'll enter an email address, and a password you'd like to use, the rest of the details will be emailed to you.
You're instantly directed to your settings page after the initial signup, and your account is pretty much ready to go, all that is left is adding some funds through the billing settings.
There are premium, high performance servers available for those who need powerful resources, I'm unable to list all of the prices within one pricing table, you're also entitled to more droplets if you need them, just need to reach out to the support team!
DigitalOcean Payment Methods
Unlike other hosting companies, in order to begin hosting with DigitalOcean – you'll need to add some "credits" to your account first, and only then you'll be able to begin creating droplets.
Currently DO accepts the following payment methods: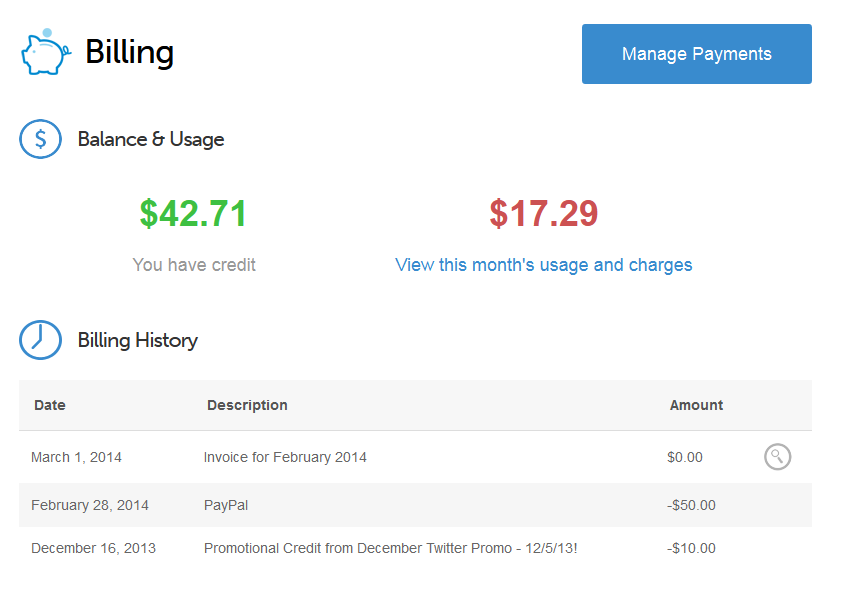 You're never paying for a full month, only for the amount of resources you use, this also makes it very easy to create new droplets to do a bit of testing, without having to worry about losing money, or getting billed the wrong amount. I'm in love with this type of billing!
I think that's about it, for the first section on how to signup to DigitalOcean and choose the payment method of your own preference. Next, we're going to be looking at the features from within the user panel and seeing what there is to do, explore and learn about.

How to create a droplet on DigitalOcean
I think that's a good headline for this next section, more or less – all of the features we're going to be looking at next are somehow involved with your droplet, otherwise known as the server you're going to be creating to host your site and/or platform, or whatever it is that you're using DO services for.

Create a Droplet
You'll want to click that big blue button in the top right corner that says 'Create Droplet' and you'll be redirected to a page that offers you to configure your server. I'll go into detail about each of the options, briefly.
You've got to pick a domain name (hostname) and also the size of the droplet you'd like to have, you can scroll back to the top to my pricing table, and take it from there if you haven't done so already.
The next choice is to select the region you'd like your server to appear in. I've selected Amsterdam for mine, but you're more than welcome to choose whichever you like, and it will usually come down to your own nearest location, all of the locations provide great speeds to the whole world, no matter what.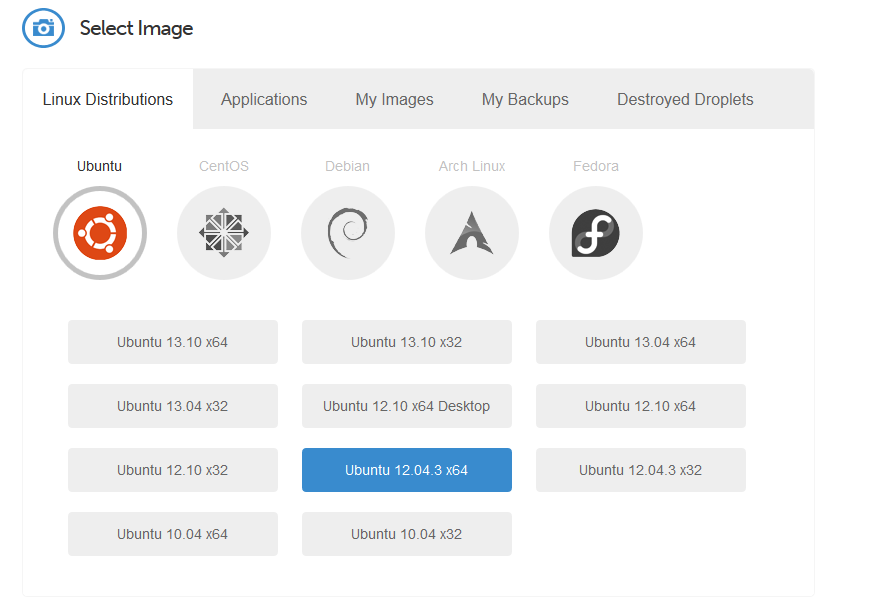 The last thing to do is to select an server image that you're going to be working with for the time being. It's not my job to make this choice for you, so if you're new to cloud hosting – perhaps it's a good idea to do some research, as to which of these images are best for you.
I know that Ubuntu is beginner friendly, though it's worth paying attention to the 'Applications' tab, which will enable you to build pre-customized servers, saving you quite a bit of time when it comes to installing a web server.
DigitalOcean Applications (Pre-built Images)
LAMP on Ubuntu 12.04
MEAN on Ubuntu 12.04.3
Ruby on Rails on Ubuntu 12.10 (Nginx + Unicorn)
Redmine on Ubuntu 12.04
Ghost 0.4.0 on Ubuntu 12.04
Dokku-v0.2.1 on Ubuntu 13.04
Docker 0.8 Ubuntu 13.04 x64
WordPress on Ubuntu 13.10
GitLab 6.6.5 CE
You can select any of these from within the Create Droplet -> Select Image -> Applications tab, and you'll have a fully functional server with your application of choice, read within 55 seconds, as promised by DigitalOcean itself, it's their moto and it's a damn good one!
DigitalOcean Linux Distributions
Apps are for those who need to save time / have quick access to some popular software, most developers and people signing up for this service are going to go with 'blank' servers, currently DO supports the following distributions:
Arch Linux 2013.05 x64
Arch Linux 2013.05 x32
The last thing to do? Create the damn droplet!
You'll get the root password in your email address, literally a few moments after you click that big, green button. It doesn't get any easier than that, and if you thought it looks complicated, it's only because I've tried to account for all of the features that are available to the customers.
Any questions about this whole process? Leave a message in the comments or my personal email, and I'll try and do my best to help you out.